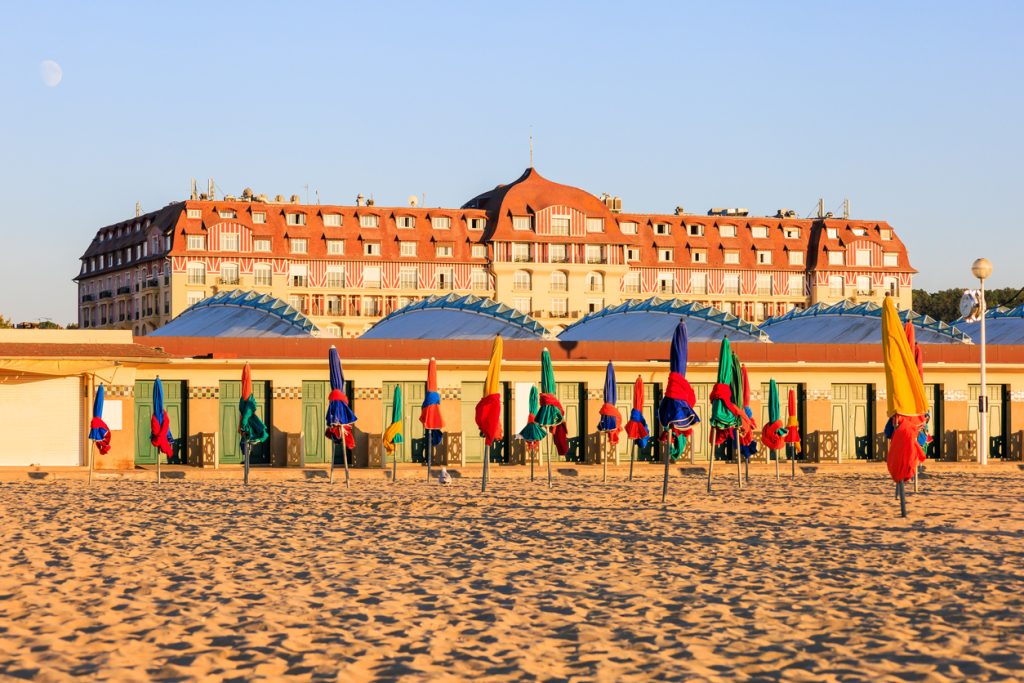 20km from Le Castel hotel
Our 3-star hotel on the Côte Fleurie in Normandy is less than half an hour's drive from Deauville, the Calvados seaside resort synonymous with luxury and prestige. It, too, has preserved its Belle Epoque charm and elegance. An international benchmark, it is a meeting place for stars of the silver screen and unconditional racegoers. Its boardwalk, beach dotted with multicoloured parasols, golf courses, stud farms, luxury hotels and casino are famous the world over.
Don't miss the boardwalk built in 1923 and made famous by Claude Lelouch in his film "Un homme et une femme", the two kilometres of beach you can enjoy to your heart's content, and the Pompeian baths (a masterpiece by Charles Adda) with their architecture typical of the Roaring Twenties. For gamblers, there's the world-renowned Casino, with the 2nd most beautiful gaming room in France and a wide choice of games. There's also the Villa Strassburger, the archetypal Auvergne manor house, built for Baron Henri de Rotschild in 1907 and bought in 1924 by American billionaire Ralph-Beaver Strassburger. Deauville is full of unusual places to discover, such as Place Morny, a lively place on market days and the ideal starting point for a shopping spree; the racecourse built on the orders of the Duke of Morny, a horse enthusiast and the father of modern Deauville (summer and winter races and polo matches); the "Breloque", the home of Eugène Boudin (precursor of Impressionism); the Hôtel Normandy...
Deauville is also a destination not to be missed for its festivals: the American Film Festival, created in 1975, which welcomes the biggest stars to the Centre International de Deauville in early September, the Sable Show Festival (free concerts by the sea every Tuesday and Friday evening in July and August), and the Planche(s) Contact Festival (photographic exhibitions in October and November).
Queen of the Cote Fleurie