Les Plages du
disembarkation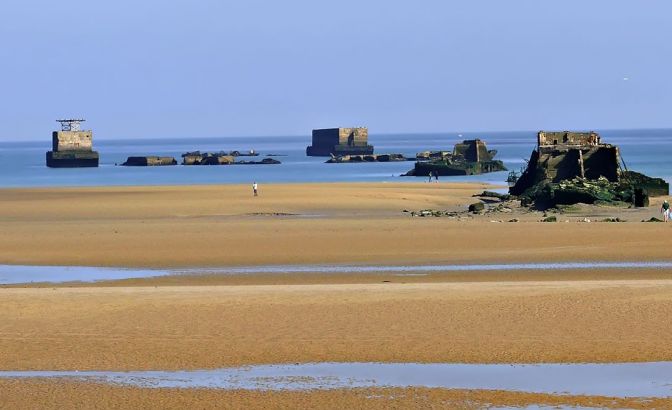 Take advantage of the ideal location of our 3-star hotel in Normandy to visit the D-Day landing beaches. Cabourg is less than 30 minutes from Ouistreham and Sword Beach, the third and final sector of the Anglo-Canadian landings. Sword was the code name for the easternmost of the five Normandy landing beaches. The 3rd British Infantry Division landed on this beach with the reinforcement of commandos and the support of specially adapted tanks. The men were to join the 6th Airborne Division and capture Caen. The latter objective was finally achieved a month later, on 9 July 1944.
There are many places of interest on the site, including the Atlantic Wall Museum Le Bunker in Ouistreham, housed in a former Atlantic Wall fire direction post, the N°4 Franco-British Commando Museum, the British Military Cemeteries at Hermanville-sur-Mer and Douvres-la-Délivrande, the Pegasus Memorial Museum in Ranville, etc.
A little further afield: the Juno Beach sector assigned to the Canadians and the Juno Beach Centre at Courseulles-sur-Mer, the Gold Beach sector located at the centre of the landing zone with the remains of the artificial harbour at Arromanches-sur-Mer, the Landing Museum which looks in detail at the design and construction of the harbour, Arromanches 360, a circular cinema which presents the full story of the Battle of Normandy.
Our hotel near the D-Day landing beaches is a charming stopover on the Côte Fleurie in the heart of Normandy.
Queen of the Cote Fleurie